Apologies to all readers of Help! I Have A Fire In My Kitchen as due to a computer software foul-up I had to reinstall my whole computer. But we are back now, though I still have to sort out some software!

This one is from Paula. She writes:

Salmon is one of those dishes people either love or hate. I find it similar to Tuna and when cooked right, it really is delicious and healthy. My uncles swore they would never eat Salmon again. They were forced to eat it at home when they were younger. As I have said in prior posts, my grandmother, though a dear woman, is a terrible cook.

So, I being the Insane, sometimes evil cook that I am, made this dish for a Barbeque. I did not tell them what it was ( they love my cooking and stopped asking). They loved it. Of course it took some convincing to make them believe it was salmon. Poor guys, the horrible memories of bad cooking left a lasting impression on their taste buds.

P.S. I'm guessing our host will give this a Three.

Grilled Salmon & Vegetables
Ingredients:
2 ½ - 3 lbs Salmon (skin on)
1 – 2 Yellow Squash (unpeeled)
1 – 2 Zucchini (unpeeled)
1/4 Cup + 6 Tablespoons Olive Oil (the best you can find)
1/3 Cup Lemon Juice
2 Glove Garlic, minced
1/2 Teaspoon Fresh Basil
1/2 Cup Low Sodium Soy Sauce
5 Tablespoons Dijon Mustard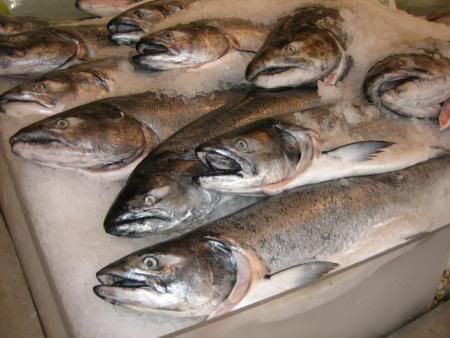 Utensils you will need:
Grill
Pastry Brush
Whisk
Medium Bowl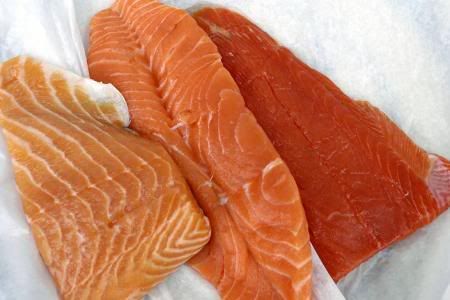 Directions:
In medium bowl put 1/4 Cup of Olive Oil, reserve the remaining 6 Tablespoons to brush the grill rack.
Now add Lemon Juice, Garlic, Basil, Soy Sauce and Mustard and whisk until blended.
While grill is heating, brush the rack with olive oil to prevent food from sticking.
Cut Salmon into 4 equal pieces
Brush with marinate , coat both sides
Cut vegetables in half, lengthwise (top to bottom) then cut in half across (you should get 4 pieces out of each one)
Brush both sides of each piece with marinate.
Place Vegetables on heated grill, cook for 8 minutes each side
Place Salmon, skin side down, on heated grill and cook for 6 – 7 seven minutes on each side.
Allow the Salmon to rest for a few minutes then remove the skin and serve with vegetables.

---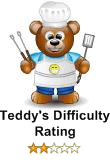 Nope this is a two star. It is easy to do, and bbq is always easier. This is a wonderful recipe for grilling fish, and I would assume works well with other fish not just Salmon. Enjoy!
---