I took a little breather from blogging folks, but am now back! We start this round with Nancy's Fresh Peach Soup recipe. She writes:

The recipe below makes a great dessert for hot summer days, and its also perfect for breakfast.
Utensils:
1. Measuring cup and measuring spoons
2. Blender
3. Large Bowl
4. Plastic wrap to cover bowl while chilling
Ingredients:
1. 3 cups diced honeydew melon
2. 1/2 cup fresh orange juice
3. 1/2 cup vanilla low-fat yogurt
4. 1 tablespoon honey
5. 1 teaspoon finely chopped peeled ginger root
6. 2 teaspoons fresh lime juice
7. 2 cups diced fresh peeled peaches (about 1-1/2 pounds)
8. 1 cup fresh blueberries
Directions:
1. Place first 6 ingredients in a blender, and process until smooth.
2. Combine melon mixture, diced peaches, and blueberries in bowl.
3. Stir well.
4. Cover and chill before serving.
Yield: 6 servings (serving size: 1 cup)
---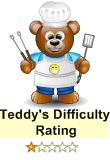 Nothing easier. Blueberries & Peaches. YUM!!!!! Remember with yogurt this is a "dairy" recipe!
---